QR code Generator
Generate simple & advanced QR codes. Easy, customizable & trackable.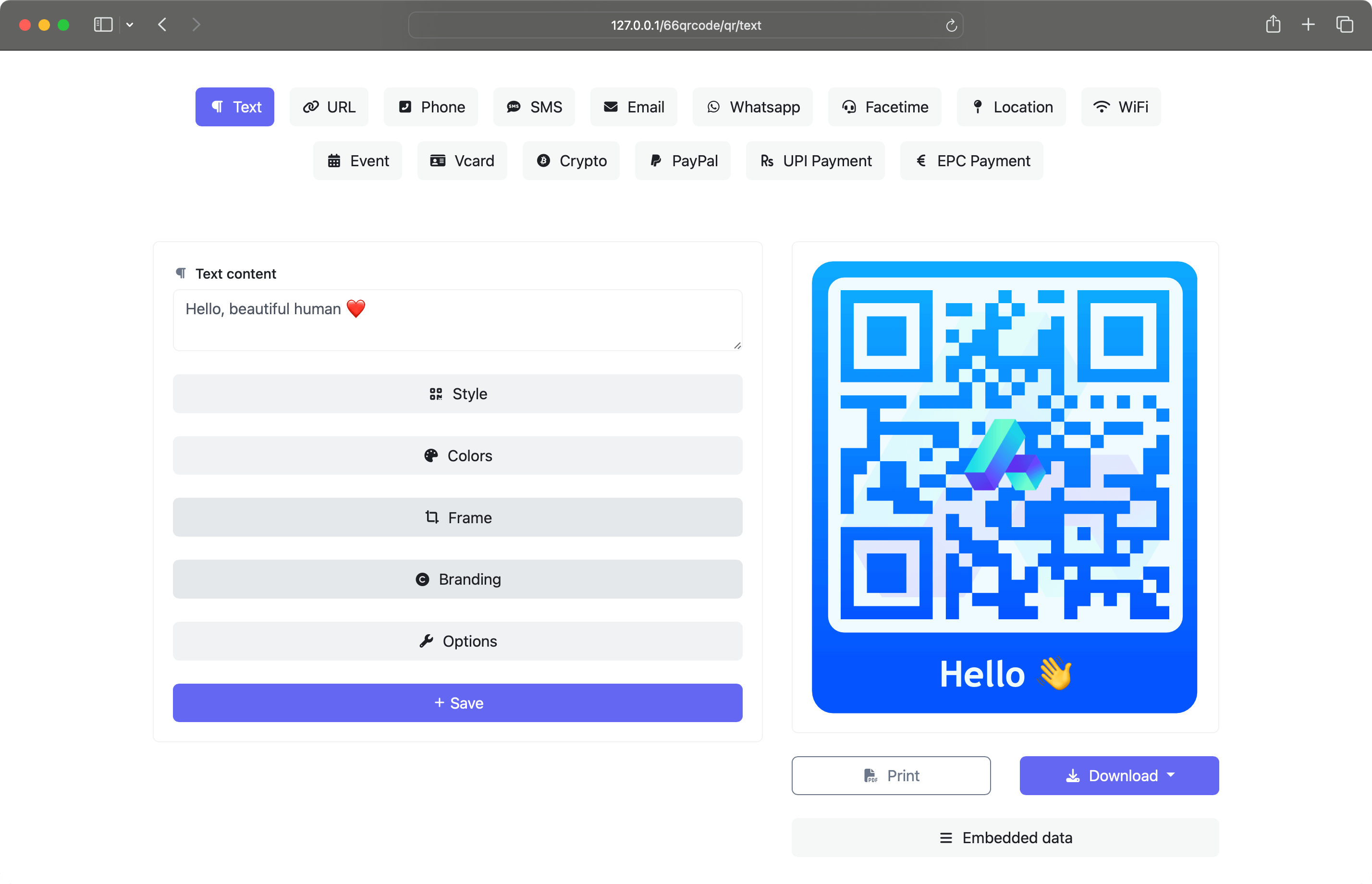 You get 13 built-in QR code templates to get you started right away.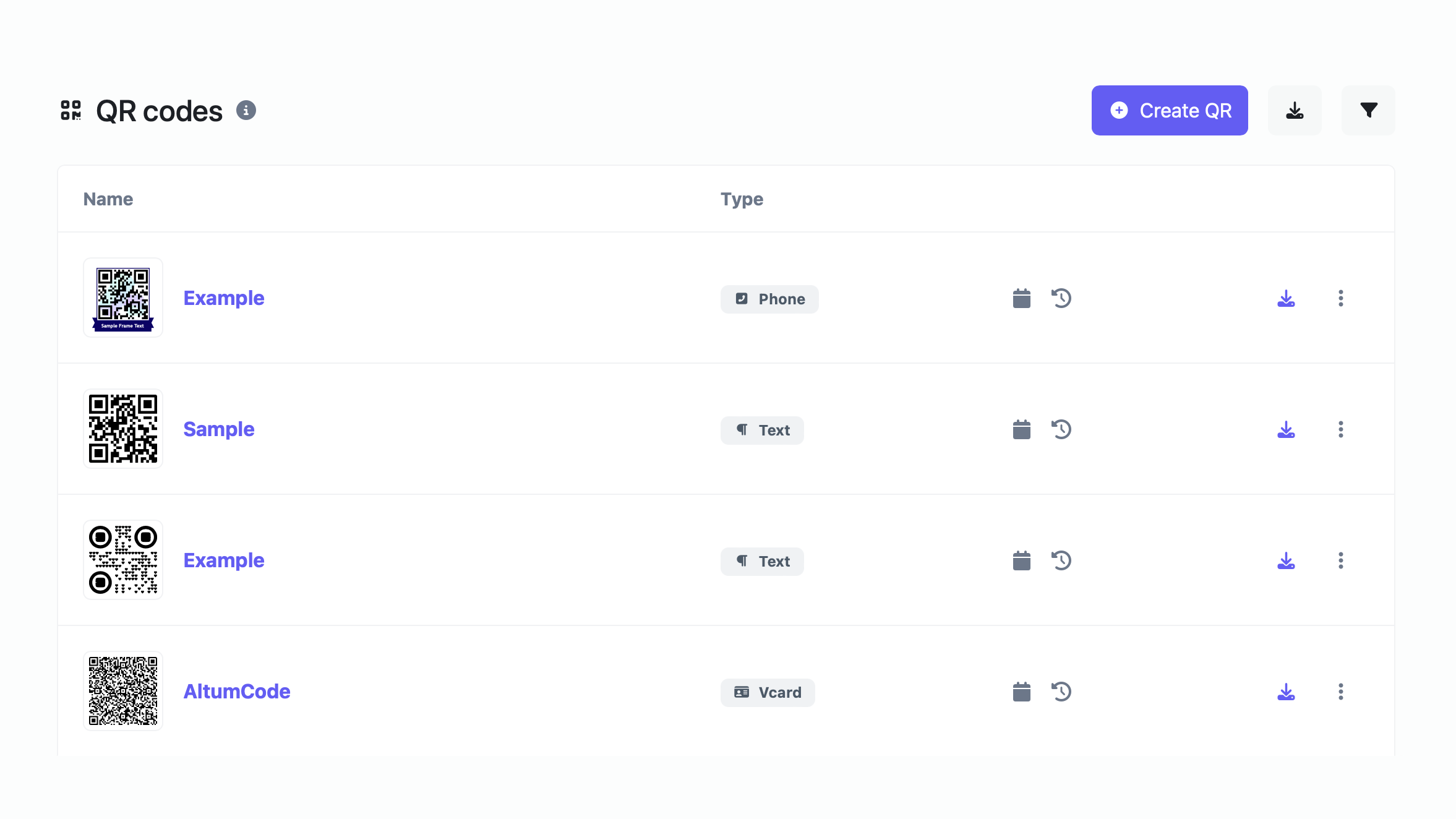 We do not store any data of your created QR codes, except the ones that you save in your account willingly.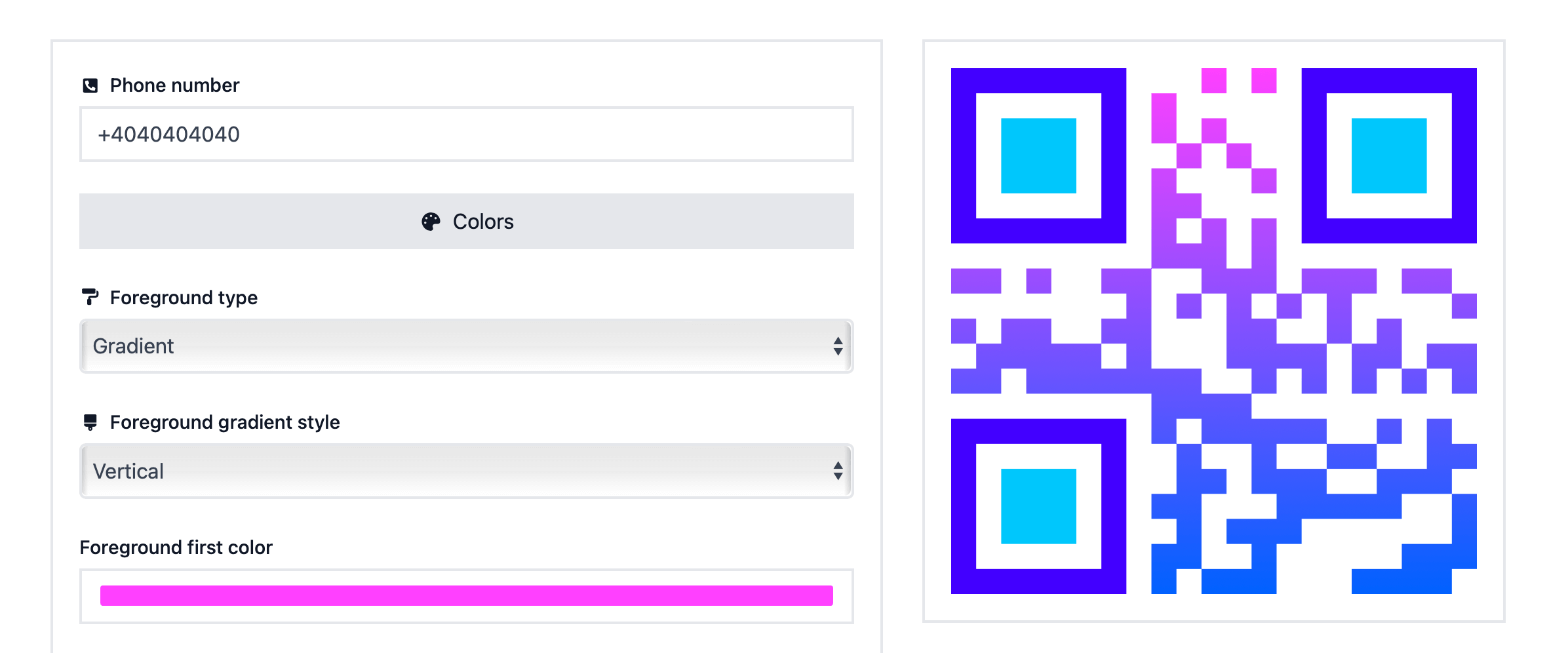 Create the QR code you need, brand it with your own colors & logo.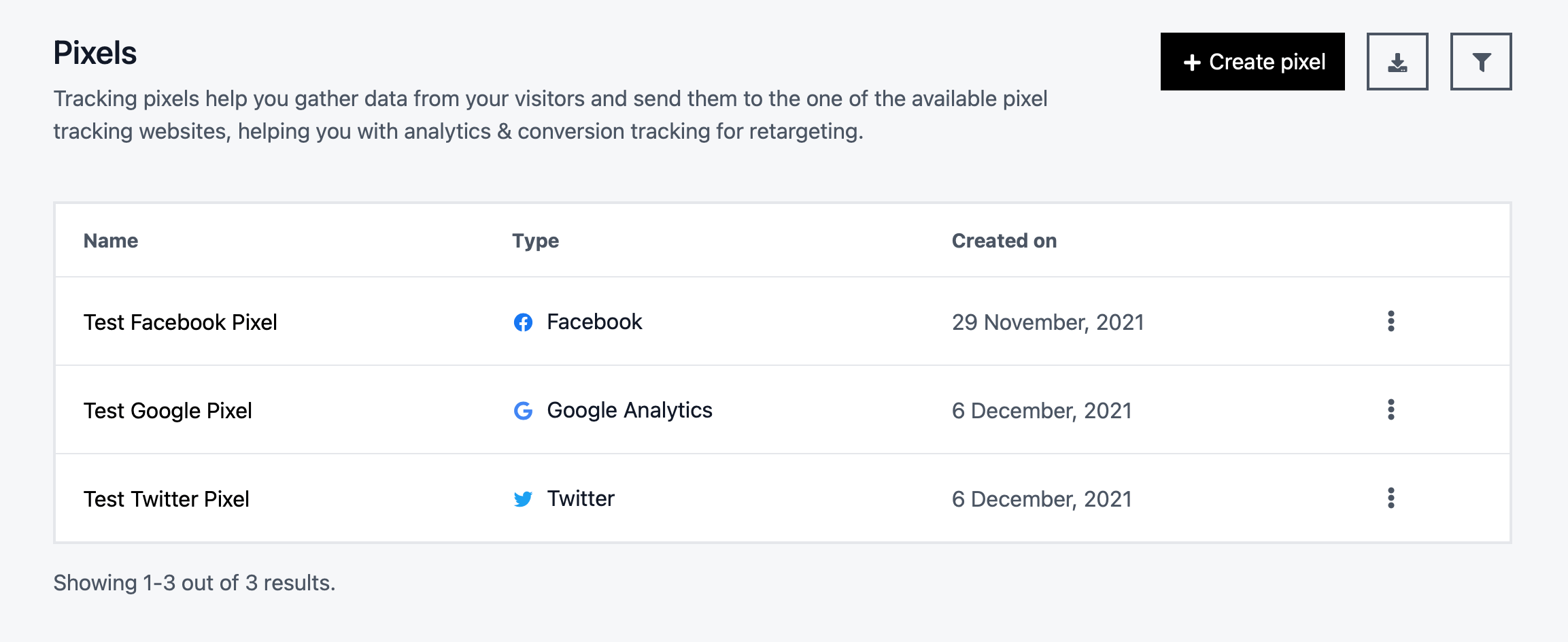 Facebook, Google Analytics, Google Tag Manager, LinkedIn, Pinterest, X, Quora, TikTok, Snapchat tracking pixels available.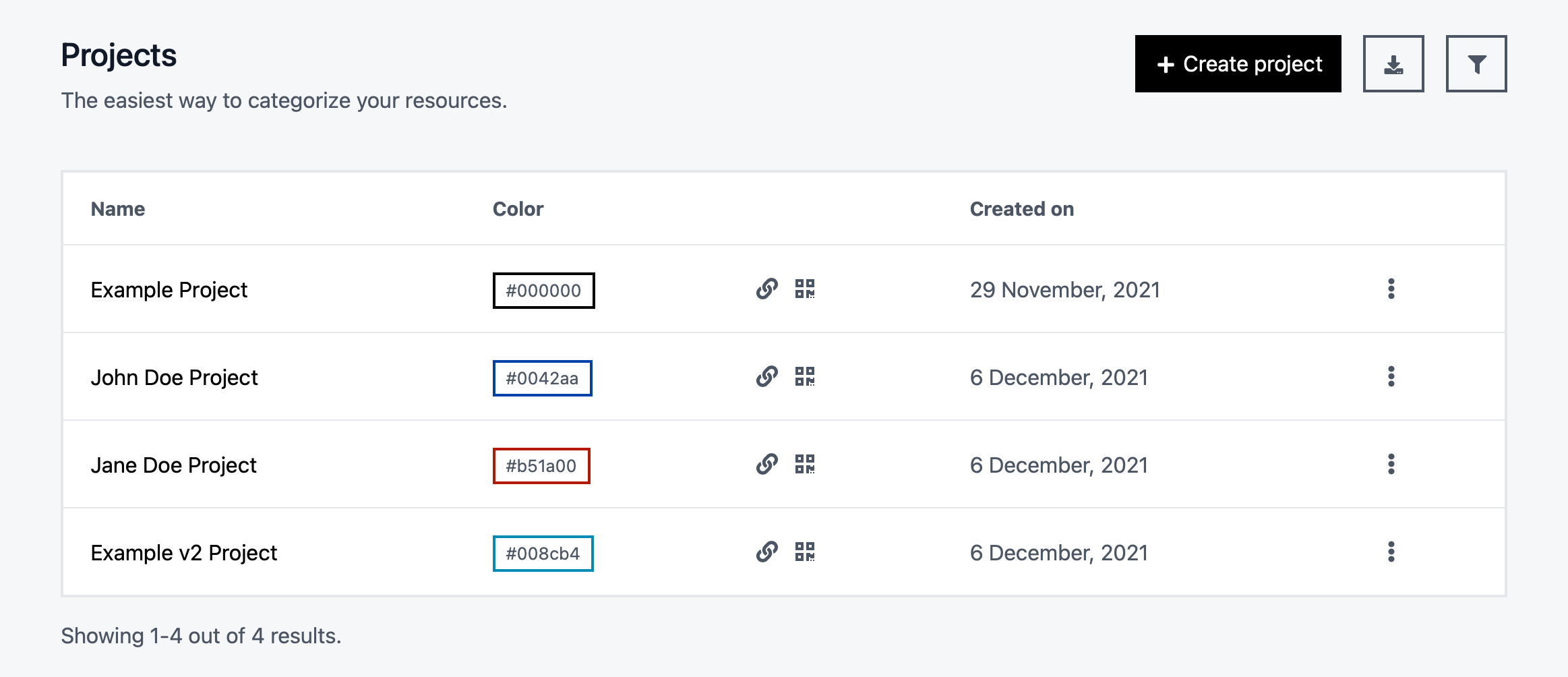 Easiest way to categorize your managed resources.

Connect your own domain or use our predefined ones.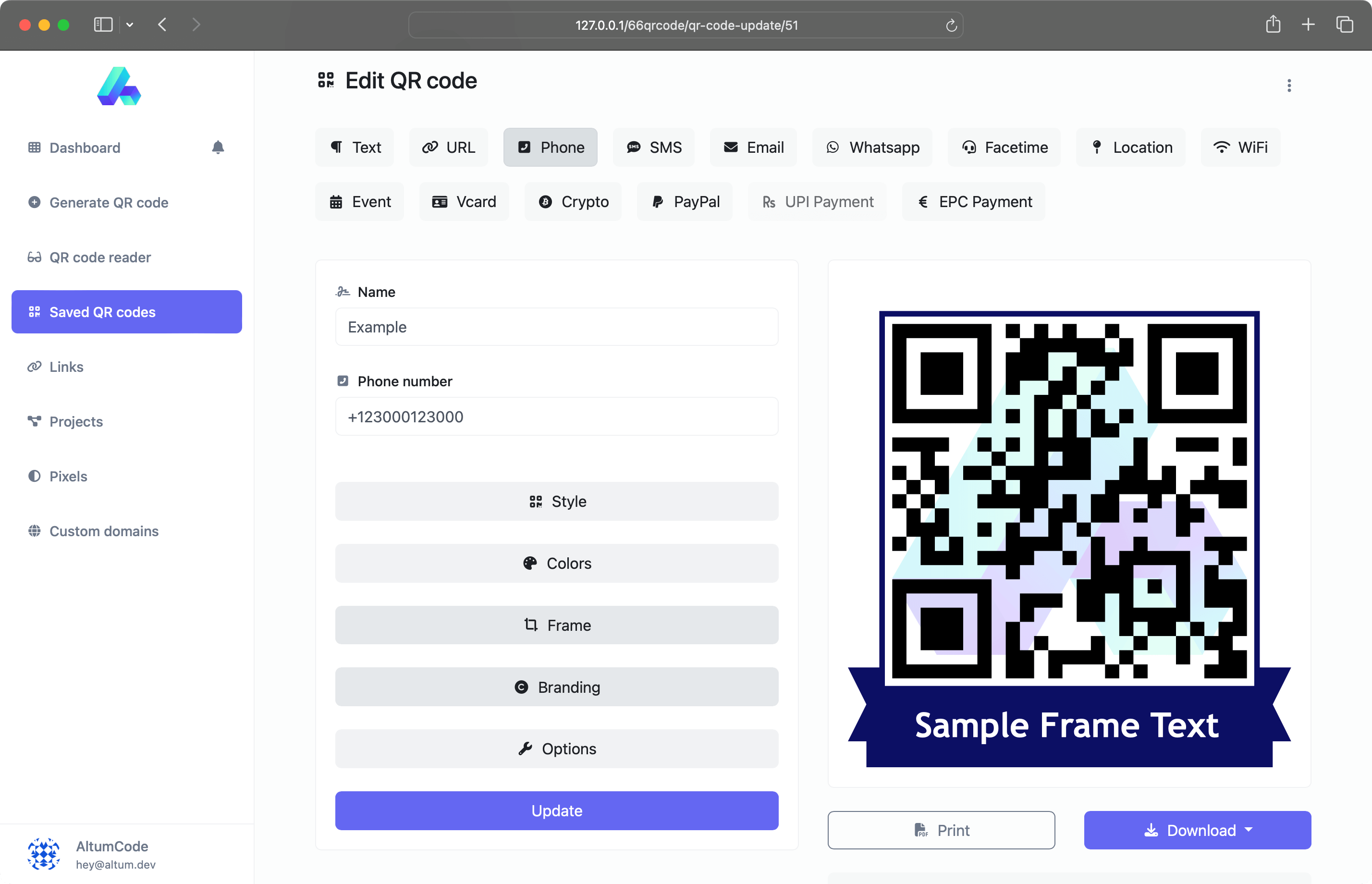 Static QR codes
Static QR codes are fixed, meaning that all the data is directly embedded into the QR code. Once generated and printed for real-world usage, it can't be changed.
Fully customizable

No scan limit

No data saved on our servers
Dynamic QR codes
Dynamic QR codes for links, allow you to change the destination of the QR code on-the-fly, whenever you want. It combines multiple technologies to make this happen in the background with the help of our Links tool.
Advanced scan statistics

Change URL destination dynamically

Scheduling, expiration limits, A/B Rotation

Password protection

Country, device & language re-targeting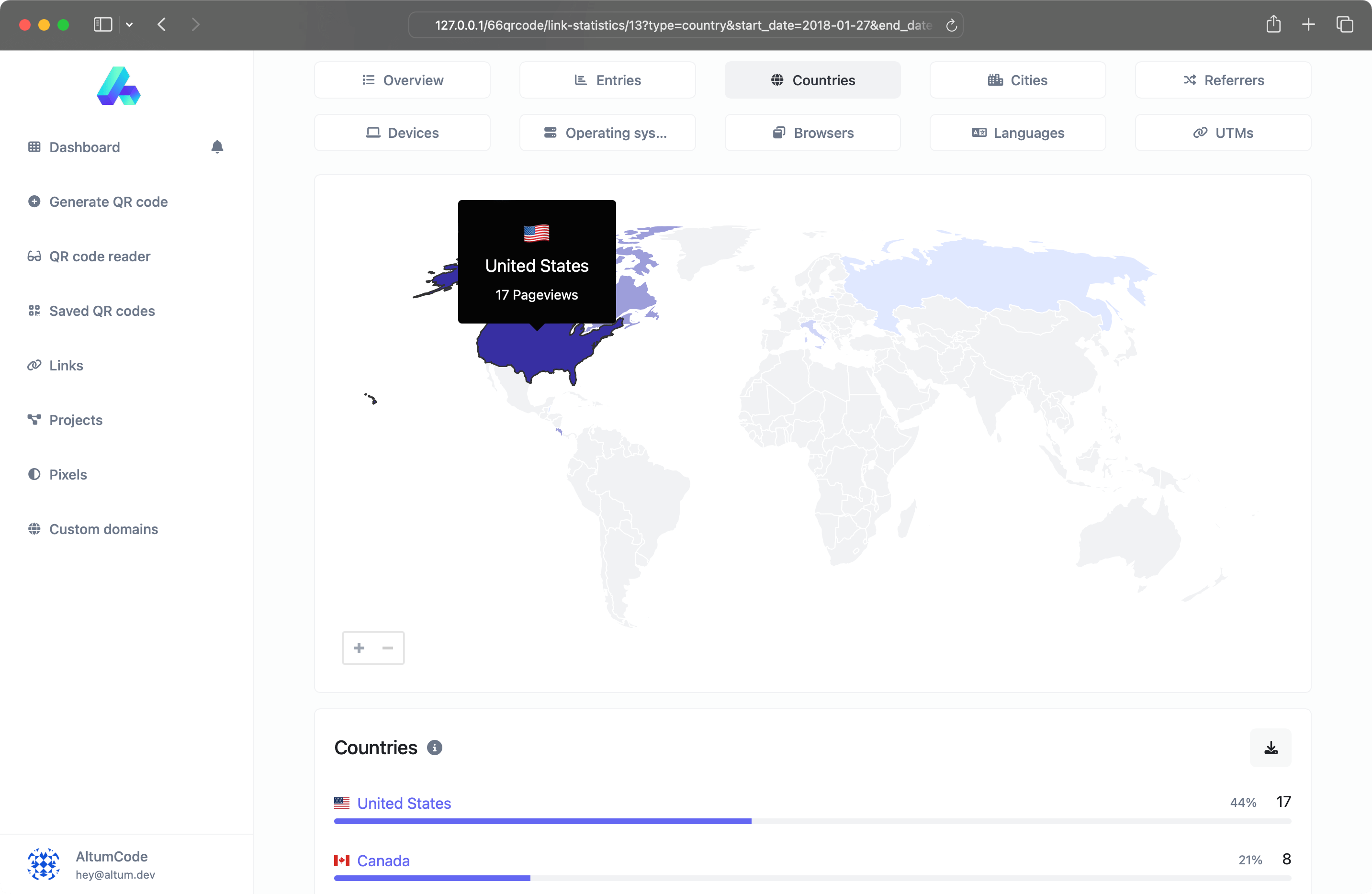 QR code types
A large array of QR code templates to choose from and get started.
Simple, transparent pricing.
Choose the plan that is right for you and your budget.
Free
Free and no need to register to create QR codes! However you can not see stats and create dynamic links.
0 days statistics retention
Free
No addition costs. It will always be free.
180 days statistics retention
19
190
490
GBP
Premium features and support.
- 38 GBP
Unlimited days statistics retention
QR Code: Best Way to Share Information for United Kingdom Companies
In an era of rapidly evolving technology, dynamic QR codes have emerged as a powerful marketing and communication tool. These innovative codes offer numerous advantages over their static counterparts, including customization options, tracking capabilities, and easy updating. In this article, we will explore the various types of QR codes, their use cases, and the benefits of using a dynamic QR code generator.
With qrcode.co.uk, you can create all types of QR codes for free! It is designed tools for united kingdom companies to share information easy way.
Types of QR Codes Generators
Dynamic Link & URL QR Code Generator
A Dynamic QR code URL provides a convenient and efficient way to direct users to a specific website or online resource. By scanning the code, users can quickly access relevant content, promotional offers, or social media profiles. This type of QR code is especially useful for businesses seeking to increase website traffic or enhance their online presence. You can also generate a dynamic QR code that shows dynamic urls anytime you want.
Phone QR Code Generator
Phone QR code generators facilitate seamless communication between businesses and customers. Scanning the code initiates a phone call to a designated number, streamlining the contact process and fostering stronger customer relationships. These QR codes are ideal for customer service hotlines, sales inquiries, or appointment scheduling.
SMS QR Code Generator
SMS QR codes enable users to send preformatted text messages to a specified phone number. This functionality can be employed for various purposes, such as subscribing to newsletters, participating in surveys, or requesting information. By automating the messaging process, businesses can improve engagement and generate valuable customer insights.
Email QR Code Generator
Email QR codes simplify the process of sending emails to a specific address. Users can scan the code to populate the recipient field and compose a message automatically. This type of QR code is advantageous for customer support, feedback submission, or event registration.
WhatsApp QR Code Generator
WhatsApp QR codes facilitate instant communication via the popular messaging platform. By scanning the code, users can initiate a conversation with a business or individual, promoting efficient interaction and fostering rapport. These QR codes are well-suited for customer support, appointment scheduling, or informal communication.
FaceTime QR Code Generator
FaceTime QR codes streamline the process of initiating a video call using Apple's FaceTime app. Ideal for personal or professional use, these codes enable users to connect and collaborate, saving time and enhancing productivity quickly.
Location QR Code Generator
Location QR codes provide a simple method for sharing geographical information. Upon scanning the code, users can access map coordinates or directions to a specific destination. This type of QR code is invaluable for businesses with physical locations, event organizers, or travel enthusiasts.
WiFi QR Code Generator
WiFi QR codes offer a user-friendly solution for sharing wireless network credentials. By scanning the code, users can automatically connect to a WiFi network without manually entering a password. These QR codes are ideal for businesses, hotels, or events that wish to provide guests with seamless internet access.
Event QR Code Generator
Event QR code generator is a practical tool for promoting and managing events. By scanning the code, users can access event details, purchase tickets, or add the event to their calendar. These QR codes are perfect for conferences, concerts, or social gatherings, simplifying event organization and boosting attendance.
PayPal QR Code
PayPal QR code generator streamlines the payment process by directing users to a secure PayPal transaction page. By scanning the code, customers can quickly and easily complete purchases or send money. This type of QR code is advantageous for businesses looking to simplify transactions and enhance the customer experience.
Benefits of using a dynamic QR code generator
Dynamic QR code generators offer numerous advantages over traditional static codes, including:
Customization options: Tailor the appearance of your QR codes to match your brand's aesthetic, ensuring a cohesive visual experience for users.
Tracking and analytics: Monitor the performance of your QR codes with detailed analytics, enabling data-driven decision making and optimization of marketing efforts.
Easy updating without changing the QR code: Modify the content linked to your QR codes without generating new ones, providing flexibility and saving resources.
Versatility across industries and use cases: Dynamic QR codes are adaptable to a wide range of applications, from marketing to logistics, making them suitable for businesses and individuals alike.
How to use our free dynamic QR code generator
Creating dynamic QR codes is a simple and intuitive process with our free generator. Follow these step-by-step instructions to get started:
Select the type of QR code you want to create (e.g., link, phone, SMS).
Enter the relevant information for the selected QR code type, such as a URL, phone number, or email address.
Customize the design of your QR code by adjusting colors, patterns, and other visual elements.
Generate your dynamic QR code and download it in your preferred format (e.g., PNG, SVG).
Integrate the QR code into your marketing materials, products, or online platforms.
For optimal results, consider these tips when creating your QR codes:
Ensure that the code is clearly visible and easily scannable by users.
Test the functionality of your QR code before deploying it in your marketing efforts.
Regularly review the analytics associated with your QR codes to assess their performance and make any necessary adjustments.
Dynamic QR codes are a valuable addition to any marketing strategy, offering unparalleled versatility, customization, and tracking capabilities. Our free dynamic QR code generator makes it simple to create and manage these powerful tools. By incorporating dynamic QR codes into your marketing efforts, you can elevate your brand's presence, engage with your audience, and drive measurable results. We encourage you to explore the many features and tools available on our website, and experience the benefits of dynamic QR codes firsthand.
In addition, you can examine the differences between the static qr code and dynamic qr code recently published on our blog and examine the recent qr code statistics.
You can also get information about ethereum qr code generator and pdf qr code generator, another qr code type you can create with qrcode.co.uk.